NWO MOSAIC 2.0 GRANT FOR PHD RESEARCHER SAMATAR BOTAN

Starting from September 2022, our team member PhD researcher Samatar Botan will be fully funded by the NWO (Dutch national Science Agency) for his research about the East African ancient kingdom of Aksum and its influential role in international trade networks.

Read more about the grant and Sam's research project at the NWO website.

Read the full news story on the Leiden University page.


KARAKORUM PHOTO EXHIBITION

From 15 April until 31 July 2022, the Antiquities Museum in Leiden (Rijksmuseum van Oudheden) will host a photo exhibition of our 2021 Karakorum Rescue Project, featuring rock art and landscape photos gathered by our archaeologists. Read more about it at the museum website.


THE MAURYAS: A brief video tour

On Sunday 13 March our project presented a lecture at Antiquities Museum of Leiden (Rijksmuseum van Oudheden) about the Maurya Kings of ancient India. For this occasion, PhD researcher Rishika Dhumal visited several prominent Maurya sites and gave a brief introduction to their relevance. You can watch the video below (6min), to get some beautiful views of sites like the Sanchi stupa in Madhya Pradesh and the Girnar rock edict in Gujarat.

The video is in English, with Dutch subtitles provided for the original museum audience.
All footage and film editing are by Nirant Dhumal.
MARCH 2022: PUBLIC LECTURE

On Sunday 13 March, our project coordinator Dr. Marike van Aerde will give a keynote lecture about the politics and monuments of the Maurya kings of ancient India. The event will take place in the main Temple hall of the Antiquities Museum of Leiden (Rijksmuseum van Oudheden).

The evening will mostly be presented in Dutch, and it will also be livestreamed directly from the museum online. You can register to attend in person or for the livestream via the link below. The event will also feature beautiful new photography of Mauryan sites and a contribution from PhD researcher Rishika Dhumal from India (in English).

For full details, visit https://www.rmo.nl/uw-bezoek/activiteiten/politiek-en-positiviteit/


Detail of the Sanchi stupa, originally built during the reign of Maurya king Ashoka (268-232 BCE)
Photography by Nirant Dhumal.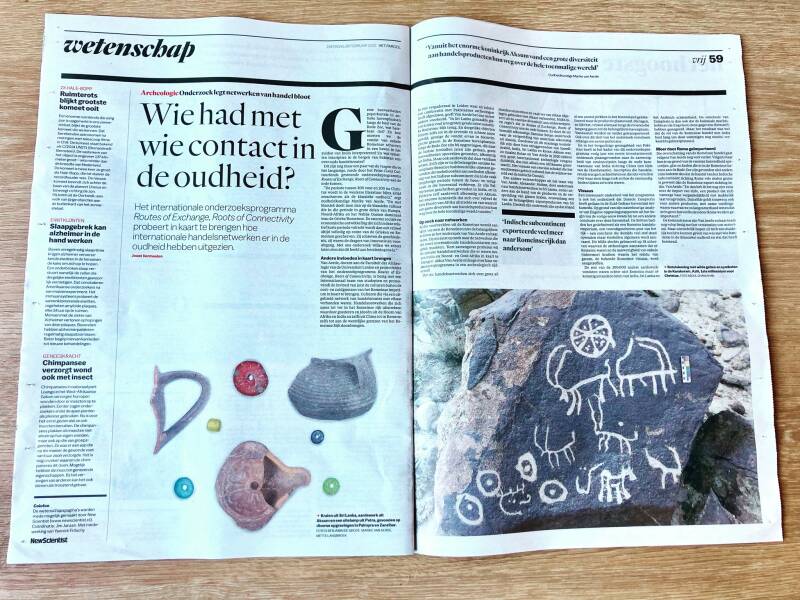 On 29 October 2021, Dr. Marike van Aerde and PhD candidate Samatar Ahmed Botan will give a keynote lecture at the Dutch national Archon Research Day, at the Allard Pierson Museum in Amsterdam.

For full details, visit archonline.nl

The talk will discuss our recent work on Aksumite archaeology and the integral role that East African societies played in trade connections that spanned from the Indian Subcontinent to the Mediterranean region in Antiquity. Moreover, we will open the floor to a wider discussion about decolonizing archaeological practices, why this matters to our societies today, and the many challenges that this pursuit entails.

The results of the MA research conducted by our team member Daniele Zampierin have been highlighted in the recent IASA Bulletin! This Bulletin provides the latest archaeology news and research from the Arabian Peninsula, and Daniele's work on Indian and local ceramics from Dhofar in Oman is outlined in this volume. Unfortunately, it is not available in Open Access so we cannot post it here online. If you are interested to read it, you can get in touch with our team coordinator via her university page contact details.

Full reference: Lischi, S. & P. Moita & M. Van Aerde & D. Zampierin, 2021. 'Indian and local ceramics from Dhofar: a multi-analytical approach to unravel a complex cultural network', in: IASA Bulletin Vol. 26, 20-22.

Our team documentary is now available to watch in full on this website! We collaborated with the Antiquities Museum of Leiden (Rijksmuseum van Oudheden) to highlight part of our research, with focus on how we encounter evidence of Greeks and Romans in wider networks of connectivity across the ancient world.

The film premiered as part of the Dutch festival 'Week of the Classics' (Week van de Klassieken) on 11 April. It will now remain accessible (in English) on our documentary page right here.
Abdul Ghani Khan (MPhil), our colleague in Pakistan, has been awarded the Prince Claus Heritage Grant for the rescue and preservation of ancient rock art in the Karakorum mountains. As academic coordinator, Dr. Marike van Aerde will collaborate with the documentation and analyses of these endangered petroglyphs as well, and our entire team will continue to support Ghani's hard work for this important heritage project!

Visit our new webpage dedicated to this project here, or use the link in the main menu.
We are very glad to announce the official Open Access publication of the new book chapter Buddha on the Rocks by Marike van Aerde, Alexander Mohns and Abdul Ghani Khan, as part of The Global Connections of Gandharan Art series at Oxford University.

In this chapter, we offer new archaeological, interpretative and statistical analyses of early Buddhist and zoomorphic petroglyphs, which were carved along the ancient routes that connected the north of the Indian Subcontinent (current-day Pakistan) with the Tarim Basin (current-day China), from ca. 300 BCE onwards.
The full book can be accessed and downloaded at Oxford University, by clicking the image.
Our specific chapter, 'Buddha on the Rocks' can also be directly accessed via the DOI: 10.32028/9781789696950 or at Archaeopress Oxford.

This month we were cordially invited by the Sri Lankan Ambassador to the Netherlands, his Excellency Mr. Sumith Nakandala. The Ambassador is very interested in our research concerning ancient Indian Ocean trade, and has suggested plans for collaborations and connections for possible archaeological studies in Sri Lanka. Together with our team coordinator, Dr. Marike van Aerde, PhD student Sam Botan and MA student Alex Mohns, who is also from Sri Lanka, partook in the visit and are eager to maintain this valuable connection. On behalf of our entire team, we would like to thank Ambassador Nakandala very much for his hospitality and interest in our work.


Our Silk Roads Vlog has been featured in the official Leiden University Archaeology Blog. (Check out the blog entry by clicking on the logo).


Archaeology in the time of corona

Leiden University published a news item about our team, on how we are managing our work during this global pandemic. Our team members are scattered across different continents right now, but we are keeping in close contact. Instead of our planned fieldwork and conferences this year, we will be focusing on digital publications and research.
In the article you can read more about our plans, and find out what the situation is like for an international research group like ours. Click on the banner to visit the page.


UPDATE: Impact of the COVID-19 outbreak

Because of the fast-spreading coronavirus pandemic, our team's research in Vadodara, India (planned for March 2020) was cancelled at the last moment. We fully understand and support the precautions India is taking, so all we can do for now is adapt and make the best of the current situation.

This outbreak has a big impact on international projects like ours, re logistics/bureaucracy, visa, permits, funding... But even as things lock down for a while now, we are already looking and planning ahead to later in the year to catch up and continue our work. Hopefully a little flexibility goes a long way. Moreover, we all have a responsibility to protect our (international) communities, so for now we will instead focus on finishing some new publications, catching up on our reading, and staying in touch with our students.
Stay safe everyone!